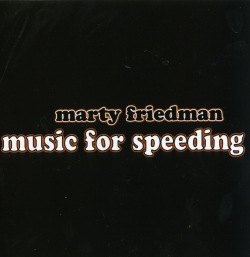 artist :

MARTY FRIEDMAN

title :

Music For Speeding

origin :

USA

style :

Speed Guitar

format :

CD

catalogue
number :

CD 04-DD114

licensed by :

Mascot, 2003

distribution:

Dark Division

Marty Friedman - guitars, programming, sequensing,
shamisen
Jimmy O'Shea - bass
Barry Sparks - bass
Jeremy Colson - drums
James "Jake" Jacobson - synthistration and
arranging on track 7
Jason Moss - additional programming and enjoyable
noise
Ben Woods - flamenco guitar on track 7


01. Gimme A Dose
02. Fuel Injection Stingray
03. Ripped
04. It's The Unreal Thing
05. Cheer Girl Rampage
06. Lust For Life
07. Lovesorrow
08. Nastymachine
09. Catfight
10. Corazon De Santiago
11. 072
12. Salt In The Wound
13. Novocaine Kiss


Total time : 47.14
All music written by Marty Friedman.
Produced by Marty Friedman.
Mixed by Sonic Bitch and Tone.
Tracks 1-4,6 mixed by Dino Alden.
Engineered by Marty Friedman, Steve Fontano, Josh
Weaver, Richie Kotzen.
Recorded at Studio 880, Oakland, CA, Priarie
Recording, Cotati, CA,
Quaa Sound, Scottsdale, AZ, Aldens Gate, Santa
Rosa, CA.
Mastered by Dave Shirk at Sonorus Mastering,
Phoenix, AZ.
Preproduction rehearsals conducted at Soundwaves,
Oakland, CA.
Guitar and bass tech: Jimmy Amason.
Photography by Pat Johnson Studios.
Graphic design: Brian Ames.



Этот гитарист, будучи в составе Megadeth продал 10.000.000 копий альбомов за 10 лет, а до этого прославился в культовом составе Cacophony! Постоянный ведущий колонок журналов Guitar World, Young Guitar (Japan) и Burrn Magazine (Japan); один из разработчиков модели Jackson Guitars (KE-1). Новый сольный альбом - в духе его первенца "Dragon's Kiss', лучших работ Cacophony - 'Speed Metal Symphony' И 'Go Off' и некоторых дисков Megadeth. Музыка с высоким октановым числом.